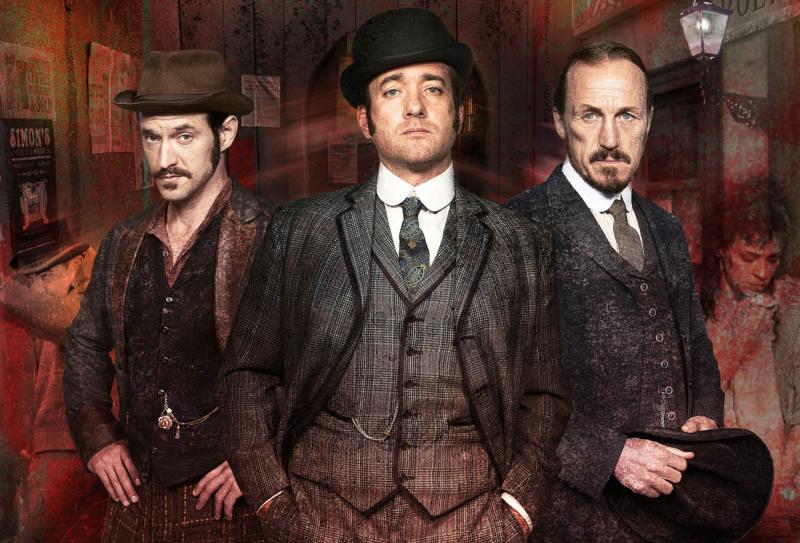 It becomes obvious only a few minutes in to the BBC's new period crime drama Ripper Street that creator Richard Warlow owes a slight debt to Guy Ritchie's Sherlock Holmes, what with the music and bare-knuckle pit fights. However, where Ritchie created a rather goofy London, Warlow's vision is more true to the reality of 19th century Whitechapel - brutal, grim and dark. This isn't your usual crime procedural.
Set in 1889, the series follows H Division, a branch of the police who patrol London's decrepit and poor East End. It's been six months since Jack the Ripper left behind the bodies of the canonical five prostitutes in the grim streets of Whitechapel and it's a time when every murder is hyped by the media as yet another deed of old Leather Apron himself. The H Division, consisting of Detective Inspector Edmund Reid adeptly played by Matthew Macfayden, the rough Detective Sergeant Bennet Drake and freelance Pinkerton-turned-surgeon Captain Homer Jackson. The characters in this core group all have their dark hang-ups and juicy secrets, leaving us eager to find out more. Reid is the moral, upstanding copper who is trying to get over not being able to bring Jack the Ripper to justice, while Drake is a brash 'bad cop', a firm graduate from the school of hard knocks. Jackson, on the other hand, is a man of passion, frequenting the brothel owned by Long Susan, who he has a rocky relationship with.
I Need Light focuses on the body of a woman who is found to have been in the smut industry. Journalist Fred Best, a slimy guy if there ever was one, attempts to sensationalise the murder by turning it into a Jack the Ripper story, all the while Reid fights him to hold off the story until all the facts have come to light. But the newspaper man isn't the only one seeing the Ripper in this case, as Chief Inspector Fred Abberline (Sherlock Holmes alum Clive Russell), a man torn by the Ripper murders insists that this is the work of the prolific killer.
As I said before, this isn't your everyday police drama. Ripper Street is definitely for grown-ups, dealing with the early days of the adult industry, snuff and some good old bloody violence. The episode introduced the characters nicely and gave a good overall set-up for the series. The story was a good one, with twists and turns at every direction, and the acting was top notch. There's no doubt that this will leave most people coming back for seconds.
****
*