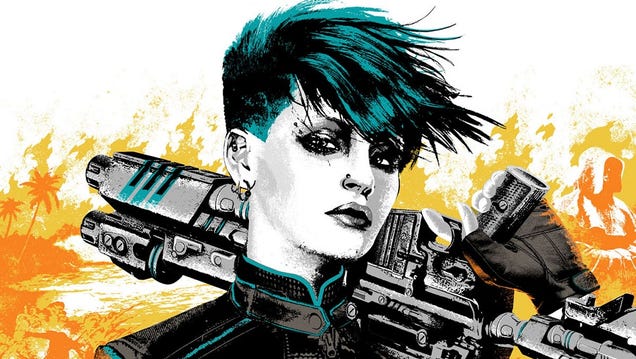 Koko Takes a Holiday by Kieran Shea
Titan Books
Buy: UK/ US
Set 500 years in the future, Koko Takes a Holiday is nothing short of a acid-fuelled rampage through the warped synapses of author Kieran Shea, who pulls no punches in delivering a fantastic cyberpunk action romp.
The titular Koko Marstellar is a war veteran who has made quite the career change to becoming the owner of a brothel on The Sixty Islands - an entertainment haven for pleasure seekers looking to indulge in simulated violence and debauchery. Koko appears to have a good life of it - a retirement that consists of running a bar and getting her rocks off with one of the boywhores. But it all changes when the CPB (Custom Pleasure Bureau), led by her old military comrade Portia Delacompte, come a knockin' with orders to kill Koko. Deftly turning the invading security force into puddles of gore (don't for a second think that she's rusty when it comes to killing), Koko finds herself on the run from a collection of assassins hired to make sure she doesn't make it to the next day.
She manages to get herself on board the barges of the Second Free Zone, sources weapons and sets about trying to keep her head down while the assassins try to find her. While there, her path crosses with Flynn, a security officer who has been diagnosed with 'depressus', a syndrome that leads quite a high percentage of people on board to kill themselves. Oh, but they don't just off themselves - the ships actually host a televised event called the Embrace where large groups of sufferers take a happy pill before plummeting en masse to the Earth below. Flynn finds himself tangled with Koko's dilemma and aids her along the way.
The main hook of the story is that due to having her memory wiped through multiple rudimentary procedures, Portia has no idea why she gave the order to kill Koko - after all, they fought together and considered her a friend. It's a great story that unravels towards the end where the reader finally discovers why Portia ordered the hit and, well, it's pretty hard-reading.
Shea manages to create a uniquely bizarre universe in a relatively short space of time - one that's completely exaggerated and satirical of the media and human nature. Every now and again the book is punctuated with scripts from fictional advertisements in the Koko universe. While novel, the gimmick doesn't really work well and I found it pretty jarring.
The narrative floats between perspectives at breakneck pace, suiting the story well, weaving in snappy dialogue and colourful characters to create a book that feels like a punch to the gut - in a good way.
Koko Takes a Holiday is well worth your time, especially if you like your cyberpunk with more action than complex techno-babble. This is a universe that I can't wait to revisit in the sequel - Koko The Mighty, which is out soon.
Verdict: Read it